Sorry we have finalized shipping flowerbulbs to the UK for this season.
On 1 January we will start selling our dahlia tubers!
You probably know them: spring flower bulbs. Those beautiful tulips, daffodils and muscari that celebrate the beginning of spring. Which one is your favorite?
Flower bulb varieties
Actually, a flower bulb is very special. In fact, inside the bulb everything is present for the plant to come out at the right time. Briefly, there are 2 types of flower bulbs: spring bulbs and summer-flowering bulbs. Spring bulbs are planted in autumn and summer bulbs are planted in spring. If you combine different types of bulbs and tubers, you can enjoy beautiful flowers in your garden all year round.
Spring and summer flowering bulbs
The best known and most popular spring bulbs are tulip bulbs, daffodils and muscari. These bulbs can be planted in the fall, from October to mid-December. The unique thing about these bulbs is that they need a cold period to grow. The bulbs will bloom between February and May. Good to know: Exactly when they bloom depends on spring temperatures.
Planting flower bulbs
In general, you should plant flower bulbs at a depth that is about 3 times their height. Since our flower bulbs are quite large, this is usually 15 cm. So a 2 cm tall bulb should be planted at a depth of about 6 cm. The tip of the bulb should point up and the convex side, where the roots grow out, down. Plant the bulbs about 15 cm apart. Remember to give the bulbs some water if the soil is very dry so they can make roots quickly and are better protected from the weather.
Taking care of flower bulbs
You don't need to water flower bulbs every day. They need water when the soil is dry. When tulips bloom, water regularly when it is not raining, especially the tulips with large flowers can use some moisture otherwise the flower heads will dry out and not bloom fully.
Wintering flower bulbs
When tulip bulbs have finished blooming, it is best to scoop them out of the garden and throw them away. This is because they bloom a lot less profusely the second year. Would you still like them to bloom again? You can read all about it in our blog on faded tulips.
Daffodils, on the other hand, can be allowed to run wild in the garden. Just let them bloom completely, the flowers will dry up by themselves. Leave the plant and when it has completely died off in July, you can cut or hoe off the foliage. All of the plant's energy is then stored in the bulb for next season. Next year you can enjoy even more flowers.
Do you have muscari in the garden? You can also just leave them in the ground. These bulbs can withstand frost well. To be on the safe side, you can add a layer of mulch (leaves) on top so they will survive a harsh winter.
Our favorite bulb flowers
You can buy different bulbs at FAM Flower Farm, namely tulip bulbs, daffodil bulbs and muscari bulbs. Can't choose from all that beauty? We list our favorite flower bulbs.
Tulips
We love pink, so it won't surprise you that pink tulip Milkshake is one of our favorites. Not a fan of pink? Then the classic double red tulip Double Twist is for you. You can find tulips not only in different colors, but also in different shapes. Think fringed tulips, for example.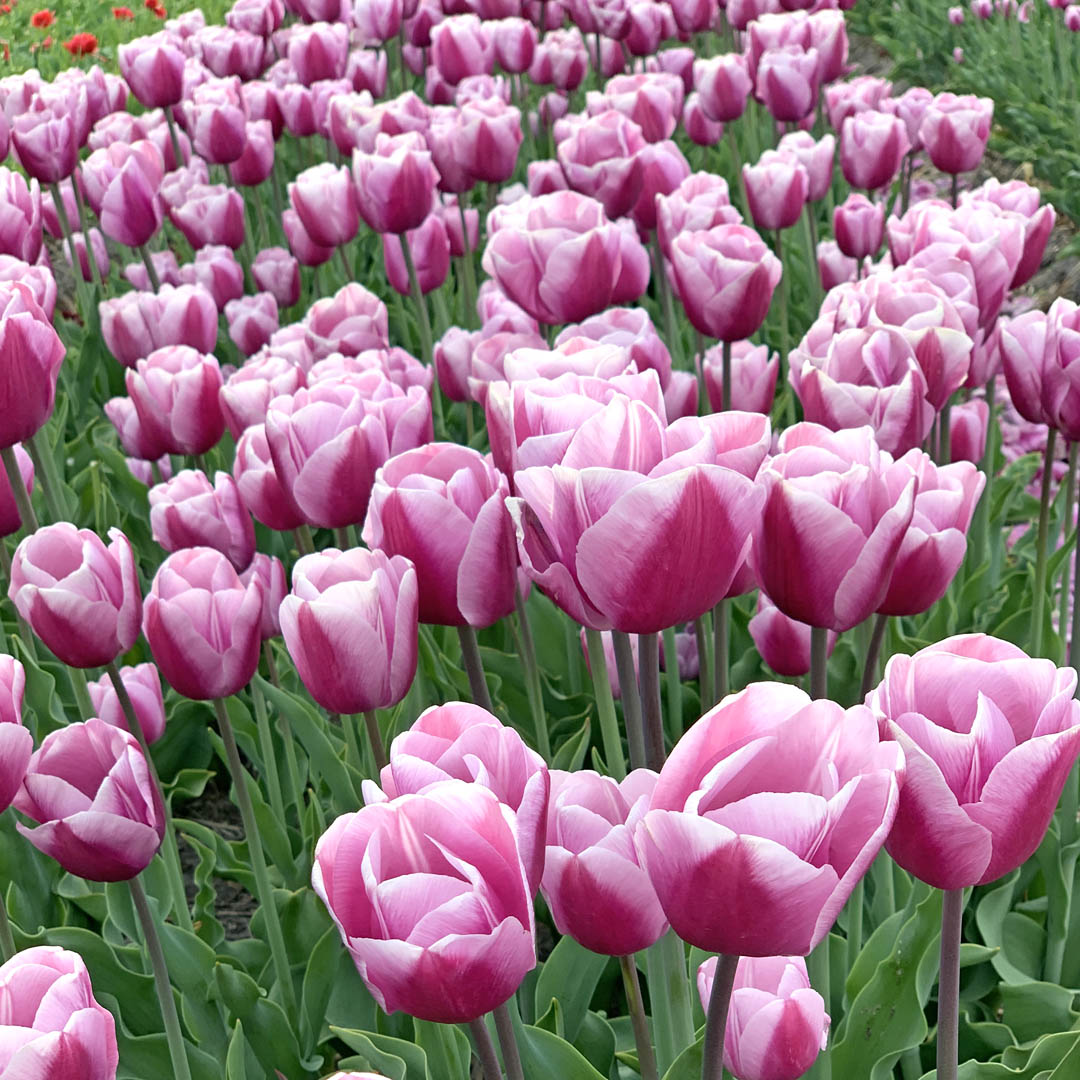 Daffodils
Did you know that daffodils also have different flower shapes? The beautiful daffodil Rip van Winkle, with its funny crest, is almost unrecognizable as a daffodil. Since these flowers are available in white, yellow, orange and cream, it is also fun to combine them all together.
Muscari
The muscari is also known as grape hyacinath, because they look like grapes. You can find them in different colours, like blue, white and pink. Our favorite is the soft pink Pink Sunrise. A unique flower that also lasts for years.
Flower bulbs for sale
Looking for flower bulbs for sale? You can order flower bulbs from July 1 through early December at FAM Flower Farm. Besides flower bulbs and tubers (dahlia), you will also find flower seeds and handy accessories in our assortment. Combine different flowers with each other for a beautiful flower garden.
Follow our farm
If you follow us on Instagram or Facebook, you'll stay up to date with the latest tips, we'll give you a look behind the scenes and you'll enjoy the most beautiful floral photos. On Pinterest you can save all our photos for garden inspiration.